Specs: ID Plate
Dimensions

1.125" X 0.75"

Weight

0.23 ounce

Material

Laser Engraved, Satin Polished, Surgical Quality Stainless Steel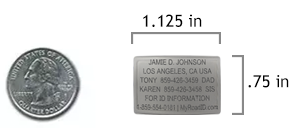 Specs: Silicone Band
Sizes

One size fits most (6.25" - 8.25", 15.9cm - 21cm).

Width

.75"

Weight

0.50 ounce

Material

Fashionable Silicone Compound (latex free)

Water Resistant

The Elite Plus Pin-Tuck ID (with silicone band) is fresh and saltwater safe. We like to say it is hydrophilic". If you paid attention in biology class, you'll remember that hydrophilic means "water lover".