Specs: ID Plate
Dimensions

1.125" X 0.75"

Weight

0.23 ounce

Material

Laser Engraved, Satin Polished, Surgical Quality Stainless Steel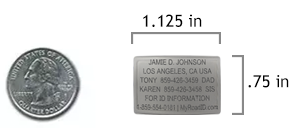 Specs: Silicone Band
Sizes

The Elite Plus is one size fits all. The silicone and leather bands can be trimmed (with scissors) to achieve an optimal fit

Width

.75"

Weight

0.50 ounce

Material

Fashionable Silicone Compound (latex free)

Water Resistant

The Elite Plus (with silicone band) is fresh and saltwater safe. We like to say it is hydrophilic". If you paid attention in biology class, you'll remember that hydrophilic means "water lover".
Specs: Leather Band
Sizes

One size fits all. The Elite Plus is fully adjustable. 

Width

.75

Weight

0.25 ounce

Material

Chrome Oil Tanned Leather
Leather Band Care Instructions
Your leather band will change (aka evolve) over time. Treat it roughly to add a bit of character. Treat it very roughly if you're after the "cowpoke's old boots" look.
Every 6 months or so, treat your band with a protective liniment. We recommend leathermilk.com.
When needed, clean your leather band with water (no soaps), and allow to dry before wearing.
In general, salt water is a bad idea. If you take it for an ocean swim, soak it in fresh water for 24 hours and allow it to dry completely before wearing.