If ordering for someone else, simply build the ID with their information. Gift options are available during checkout. Don't know what to engrave on their ID? Gift Cards are a great option.
If ordering an Interactive Version, you may have questions about the Emergency Response System. See below for more information about the Online Profile:
YOUR LIFELINE TO ALL YOUR VITAL INFORMATION
Secure. Updatable. There when you need it.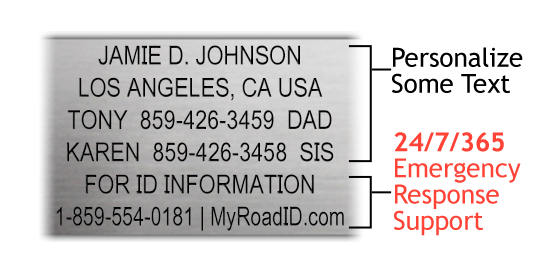 ONLINE PROFILE
from contact numbers to meds, allergies, and more - keep it simple or go all-out.

EASY & AFFORDABLE
no additional up-front cost. purchase includes 6 months of service. only $9.99 per year after that.

SECURE & UPDATABLE
your info is safe with us (super encrypted), edit anytime you like.

24/7 LIVE SUPPORT
living, breathing humans - all day, every day.

WORLDWIDE ACCESS
by phone or by Internet, works literally everywhere.

DOCUMENT UPLOAD
easy access to any documents you might need in an emergency.